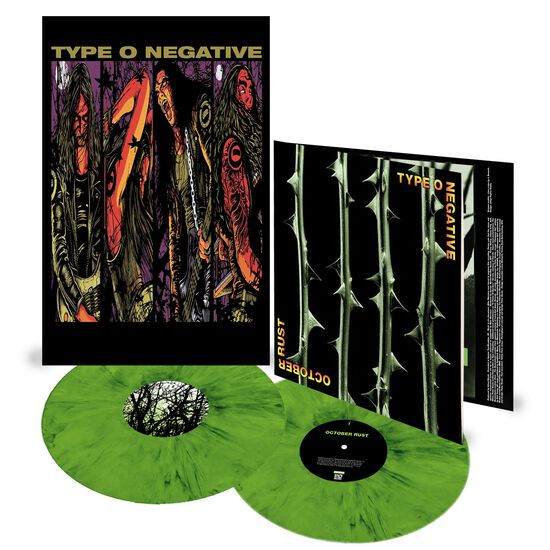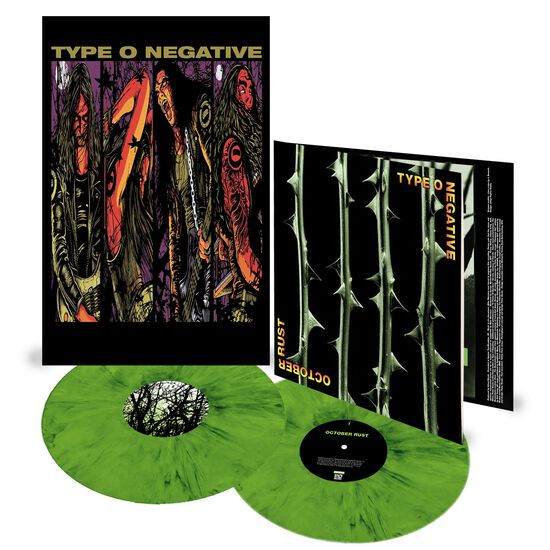 Type O Negative
October Rust 25th Anniversary Edition (Standard green and black edition)
Get em' before they're got!
Availability:
This item is currently not available
25th Anniversary deluxe edition - a must for the Type O FAN-atic!
First stand-alone vinyl release in North America!
Comes in a deluxe tip-on gatefold jacket and is pressed on multi-color vinyl
Mastered for kick-ass sound
Includes an exclusive fold out color poster
A limited amount of the VOODOO EDITION will be available exclusively @ runoutgroovevinyl.com while supplies last
Biography:
Type O Negative is an American goth-metal band formed in Brooklyn in 1989 by Peter Steele (lead vocals, bass), Kenny Hickey (guitar, backing vocals), Josh Silver (keyboards, backing vocals), and Sal Abruscato (drums, percussions), who was later replaced by Johnny Kelly. October Rust is the band's fourth studio album. released in 1996 on Roadrunner Records. October Rust has more ballads and less of the doom metal sound of previous or subsequent albums. It also features a heavy cover of Neil Young's "Cinnamon Girl." This is the first album with Johnny Kelly credited as the band's drummer, although programmed drums are used on the album as well. It is the first of the band's albums with a "joke intro"; in this case, "Bad Ground", which is 38 seconds of low-level buzzing, meant to sound as if the listener's speakers are incorrectly plugged in. The 2 tracks listed as "Untitled" are humorous untitled spoken word intros and outros to the album, respectively, with the band downplaying the recording of the album. Another production technique employed on the album is the use of very abrupt endings and segues to a few of the songs, heard on the tracks "Green Man", "Red Water", and "Haunted." The album is certified Gold by the RIAA in the U.S. It's highest chart position was #42 on the US Billboard 200 and as high as #5 on the German Top 100 chart and #3 on the charts in Sweden. For the first stand-alone vinyl release in North America, ROG is reissuing this classic doom metal title for the 25th Anniversary.
Track Listing:
Side A
1 Bad Ground 0:38
2 Intro 0:21
3 Love You To Death 7:08
4 Be My Druidess 5:25
5 Green Man 5:47
Side B
1 Red Water (Christmas Mourning) 6:48
2 My Girlfriend's Girlfriend 3:46
3 Die With Me 7:12
Side C
1 Burnt Flowers Fallen 6:09
2 In Praise Of Bacchus 7:36
3 Cinnamon Girl 4:00
Side D
1 The Glorious Liberation Of The People's Technocratic Republic Of Vinnland By The Combined Forces Of The United Territories Of Europa 1:07
2 Wolf Moon (Including Zoanthropic Paranoia) 6:37
3 Haunted 10:07
4 Outro 0:08