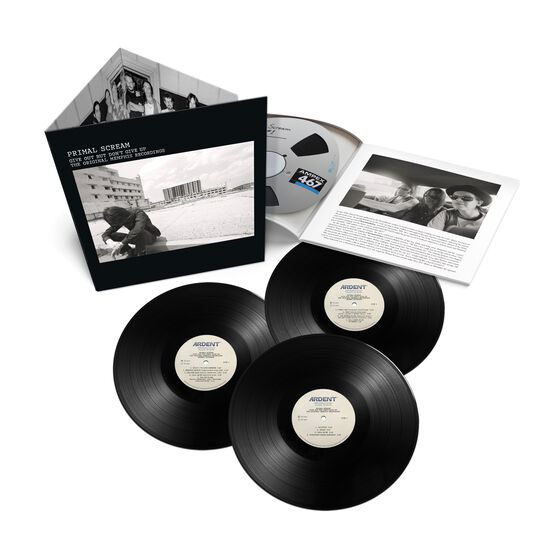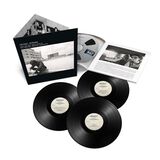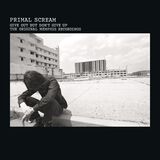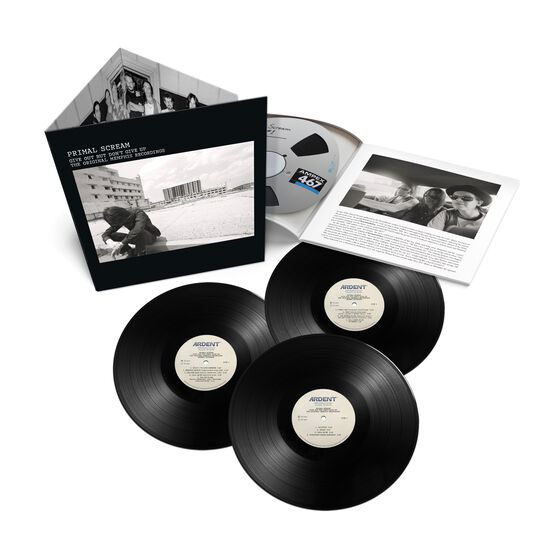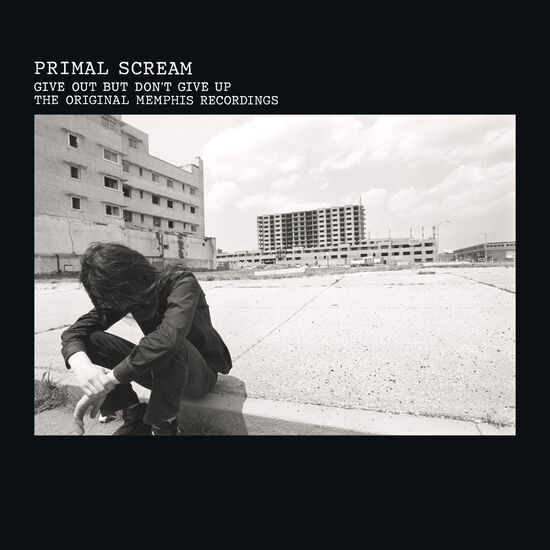 Primal Scream
Give Out But Don't Give Up (The Original Memphis Recordings)
Get em' before they're got!
Config/Selection: A / ROGV-114
Units per set: 3
UPC #: 081227906207
Pre-order opens: 1/19/2021
Pre-order closes: 2/17/2021
Shipping: 9/10/2021
SRP: $49.98
This is the first US release on vinyl!

3LP set includes two additional LPs of bonus outtakes, making their debut on vinyl

Features new cover artwork!

Lacquers cut at 33 1/3 rpm for the first time by original mastering engineer Jeff Powell, pressed on 2-140g records and comes in deluxe packaging with a booklet.

Limited and individually numbered
Biography
Primal Scream are a Scottish rock band originally formed in 1982 in Glasgow by Bobby Gillespie (vocals) and Jim Beattie. The current line up consists of Gillespie, Andrew Innes (guitar), Martin Duffy (keyboards), Simone Butler (bass) and Darrin Mooney (drums). After Gillespie and Beattie's aborted first recording with Alan McGee's Essential label, Gillespie joined The Jesus and Mary Chain as drummer and alternated between the two bands. Gillespie and Beattie expanded Primal Scream's lineup to include schoolfriend Young on bass, rhythm guitarist Stuart May, drummer Tom McGurk, and tambourine player Martin St. John Primal Scream were signed to McGee's Creation Records in 1985 and recorded their debut single, "All Fall Down," in which received positive reviews. After the release of the single, Gillespie was told by The Jesus and Mary Chain leaders William and Jim Reid that he was to either dissolve Primal Scream to join their band full-time or resign. Gillespie chose to remain with Primal Scream. The band toured throughout 1986, and Gillespie became disenchanted with the quality of their performances. He said that there ""was always something missing, musically or in attitude."" They switched to McGee's newly set-up Warner Bros. subsidiary Elevation Records. May was subsequently dismissed; Gillespie's former bandmate Innes was brought in as his replacement, and the band found a new drummer, Gavin Skinner. With their new lineup, the band re-entered the studio, this time in London with producer Mayo Thompson. By the time Sonic Flower Groove was completed, it had cost £100,000. The album reached number 62 on the British charts and received poor reviews. The backlash from the album caused internal strife within the band. Beattie and Skinner subsequently resigned. The band, now consisting of Gillespie, Innes and Young, relocated to Brighton to regroup. Young switched to guitar, and they recruited bassist Henry Olsen and drummer Phillip ""Toby"" Tomanov, who had both been in Nico's backing band, The Faction. They traded in their jangle pop sound for a harder rock edge, or as Gillespie said, ""[w]e had found rock 'n' roll."" The band re-signed to Creation Records and released their first single in two years, ""Ivy, Ivy, Ivy"". This was followed by a full album, Primal Scream. The band's new sound was met with poor reviews, NME called it ""confused and lacking in cohesion"". The album featured Felt keyboardist Martin Duffy guesting. The band were first introduced to the acid house scene by McGee in 1988. The band developed a taste for it and began attending raves. The band met up with DJ Andrew Weatherall at a rave, and he was given a copy of ""I'm Losing More Than I'll Ever Have"", a track from Primal Scream, to remix for one of his shows. Weatherall added a drum loop from an Italian bootleg mix of Edie Brickell's ""What I Am"", a sample of Gillespie singing a line from Robert Johnson's ""Terraplane Blues"" and the central introductory sample from the Peter Fonda B-movie The Wild Angels. The resulting track, ""Loaded"", became the band's first major hit, reaching number 16 on the UK Singles Chart. This was followed by another single, ""Come Together"", which reached number 19. The band entered the studio with Weatherall, Hugo Nicolson, The Orb and Jimmy Miller producing, and Martin Duffy now full-time on keyboards. They released two more singles, ""Higher Than The Sun"" and ""Don't Fight It, Feel It"" which featured the lead vocals of Manchester singer Denise Johnson. The album, Screamadelica, was released in late 1991 to positive reviews. The album was also a commercial success, reaching number eight on the UK chart. The album won the first Mercury Music Prize, beating Gillespie's former band The Jesus and Mary Chain. The supporting tour kicked off in Amsterdam, and it included a performance at the Glastonbury festival before coming to an end in Sheffield. The band began work on their fourth album, Give Out But Don't Give Up, in Roundhouse Studios in London in September 1992. In March 1994, the first single from the new album, ""Rocks"", was released. It was the band's highest-charting single to date, reaching number seven on the UK charts. The single was not received well, with NME calling them ""dance traitors"". The album, Give Out But Don't Give Up, was released in May to mixed reviews. Whereas some praised the band's new The Rolling Stones-influenced sound, some dismissed the album as tired and drawing too heavily on their influences. Two more singles were released from the album, ""Jailbird"" and ""(I'm Gonna) Cry Myself Blind"", both of which charted progressively lower. While touring in support of the album, relations within the band began to wear down. The band's American tour, when they supported Depeche Mode, was, in the words of manager Alex Nightingale, ""the closest we've come to the band splitting up."" After the completion of the tour, the band remained quiet for a long period of time. The band went on to release 3 more records for Creation, 3 for Columbia Records and a few for independent labels. In August 2018 it was announced that the band would release the original long-lost recordings made for Give Out But Don't Give Up for the first time, which were made when the band went to Memphis's Ardent Studios in 1993 to work on a new album with producer Tom Dowd, engineer Jeff Powell and the Muscle Shoals Rhythm Section. If voted to win, Run Out Groove will reissue Give Out But Don't Give Up (The Original Memphis Recordings) for the first time on vinyl in the U.S. and expand it to a 3LP set with bonus tracks; all of which have not been pressed on wax. The 3LP set would be cut to lacquers at 33 1/3 rpm by original mastering engineer Jeff Powell for the first time.