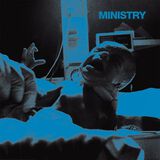 Get em' before they're got!
Availability:
This item is currently not available
Ministry: Greatest Fits 2LP was the 10th fan voted title and 11th ROG release pressed on vinyl. Limited to only 1656 LPs worldwide and delivered to stores in April 2018. Fans voted on the colorway of the 2LP set. If you missed out on the pre-order check our store locator to find an authorized Run Out Groove dealer near you.
Vinyl info:
The LP was mastered for vinyl by Pete Weiss at Verdant Studios with lacquers cut by Jeff Powell at Sam Phillips Recording Studio. 180g multi-color vinyl was pressed at Record Industry in the Netherlands. Gatefold tip-on jacket was manufactured at Stoughton Printing Company.

Details about the record:
This is the first time this greatest hits collection has been available on vinyl.

Info about the band:
Ministry is a legendary industrial metal band founded in 1981 by Al Jourgensen in Chicago. In its earliest days, the band began as a new wave synth pop group but ended up changing styles in the mid-1980s to become one of the pioneers of the industrial metal genre. Their first LP, With Sympathy, was issued on Arista in 1983 and hit the upper 90s on the Billboard 200 at the time. It was well received in new wave circles and on college radio but in retrospect, Jourgensen has expressed extreme dislike of the record and claims the band's artistic control was compromised by Arista at the time. By the mid-1980s Jourgensen parted ways with original partner/drummer, Stephen George, and signed to Sire Records. By the end of the decade, Jourgensen made the most significant move by resuming his guitar duties and bringing bass guitarist Paul Barker into the fold. In 1988 the band recorded their second album for Sire, The Land of Rape and Honey, which used synth, tape loops, drum machines, heavily distorted guitar and bass, and movie dialogue to great effect – furthering their success in the underground music scene. The track Stigmata is featured in Richard Stanley's 1990 sci-fi thriller, Hardware. The album was certified Gold by the RIAA in 1996. Bands such as Fear Factory, Linkin Park, Slipknot and Nine Inch Nails cite The Land of Rape and Honey as a major influence. Their follow up Sire album, The Mind is a Terrible Thing to Taste, took a more hardcore guitar-driven direction and was supported by a tour from 1989-90 which was documented on the album In Case You Didn't Feel Like Showing Up. The album peaked at #163 in the US and was certified Gold by the RIAA for sales in excess of 500k in 1995. Music critic Tom Moon included the album in his book, 1000 Recordings to Hear Before You Die, saying it "is one of the great works of industrial music" and is an influential album, "way ahead of its time." Ministry broke into the mainstream in 1991 with the hit "Jesus Built My Hotrod," which was co-authored by Gibby Haynes of the Butthole Surfers (who also is featured doing guest vocals) and Michael Balch of Front Line Assembly. It was the key track off their fifth studio album released on Sire in 1992, commonly referred to as Psalm 69. The album received a lot of airplay on MTV and helped secure them a spot on the Lollapalooza Tour. It was the band's first release with guitarist Mike Scaccia. Sire gave the band $750k to record the album and Al and Mike spend $1000 per day of the money on drugs. The song N.W.O. was nominated for the Grammy Award for Best Metal Performance at the Grammys in 1993, but lost to Nine Inch Nails' "Wish." Psalm 69 is ranked #80 on Rolling Stone magazine's Top 100 Greatest Metal Albums of All Time list. It went platinum and peaked at #27 on the Billboard 200, paving the way for other industrial acts including Marilyn Manson, Orgy and Rammstein into the Billboard charts. Ministry has gone on to record up until their break up in 2008, although they announced a reunion in 2011 , released two more studio albums and are working on their fourteenth studio album set to release in 2018. They have been nominated for 6 Grammy Awards. If voted in, this will be the first time that their "Greatest Fits" album covering key tracks from the Sire label years will be available on vinyl. No other Ministry greatest hits collection exists on vinyl in the market and this one would receive the typical high quality Run Out Groove treatment.
Quotes, links to reviews
http://modern-vinyl.com/2017/12/17/ministrys-greatest-hits-getting-pressed/
Track Listing:
Side A
1 What About Us? 5:52
2 Stigmata 5:44
3 Land of Rape and Honey 5:11
Side B
1 Thieves 5:01
2 So What (Live) 10:33
3 N.W.O. 5:30
Side C
1 Just One Fix 5:12
2 Jesus Built My Hotrod 4:52
3 Reload 12" 3:37
4 Lay Lady Lay 5:44
Side D
1 Supermanic Soul 3:41
2 Bad Blood 4:59
3 Supernaut (1000 Homo DJs) 7:09