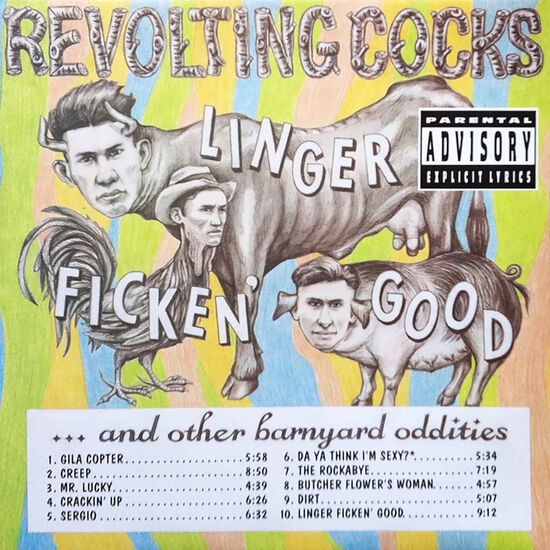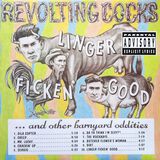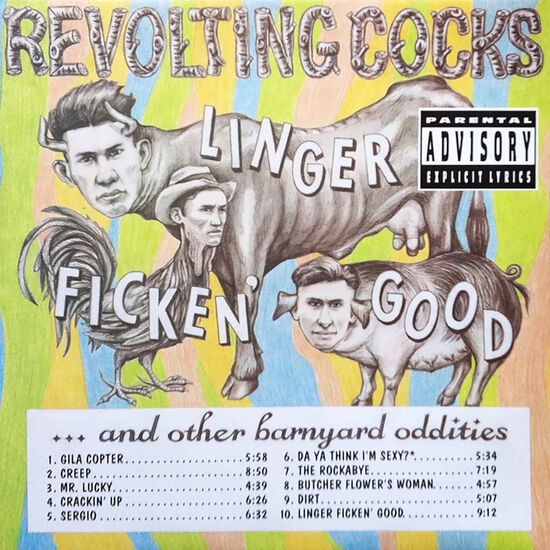 Revolting Cocks
Linger Ficken' GoodAnd Other Barnyard Oddities
Get em' before they're got!
Availability:
This item is currently not available
Revolting Cocks: "Linger Ficken' Good..And Other Barnyard Oddities" 2LP was the 18th fan voted title and 19th ROG release pressed on vinyl. Limited to 1,033 LPs worldwide and expected to ship in December 2018. Fans were given the opportunity to vote on the final colorway of the 2LP set which resulted in black and solid yellow mixed vinyl. If you missed out on the pre-order check our store locator to find an authorized Run Out Groove dealer near you.
Vinyl info:
Mastered for vinyl by Pete Weiss at Verdant Studios with lacquers cut by Jeff Powell at Take Out Vinyl. 180g mixed colored vinyl was pressed at Record Industry in the Netherlands. Gatefold tip-on jackets were manufactured at Stoughton Printing Company.
Details about the record:
First domestic release of this album on vinyl in the U.S.

Biography
Revolting Cocks are an American-Belgian alternative industrial rock band that began as a side project for Richard 23 of Front 242, Luc van Acker and Al Jourgensen of Ministry and was active between the years 1985 to 1993 and then on and off between 2004 to present in various incarnations. RevCo was founded by Richard and Luc with Al as producer. According to Luc, the band took on their name after trying out "insulting French expressions" on a waiter in a Chicago bar, ordering something they said meant "revolting cock" which led the waiter to say "you are revolting cocks!" Their debut release was "No Devotion" on Wax Trax! Records in 1985. The single was followed by the album, "Big Sexy Land" in 1986 which featured a mixture of industrial, hard rock and EBM with sampling and synthesized beats. Richard quit in 1986 and the group's remaining two members were augmented by Chris Connelly (formerly of Finitribe, later of Ministry), Paul Barker and Bill Rieflin (both formerly of the Blackouts and at the time in Ministry), with various others appearing as contributors or guests. The following live album, "You Goddamn Son of A Bitch" (1988), marked the band's live debut, featuring aggressive versions of the tracks from Big Sexy Land along with new material. This continued on "Beers, Steers and Queers" (1990), layering sample over sample and pushing the distortion. "Linger Ficken' Good and Other Barnyard Oddities" (1993) was released by Sire Records, with most of the music returning to the less layered material and having a comedic edge. Included on this album is a cover of Rod Stewart's "Da Ya Think I'm Sexy?" which was released as a single. A tour was planned to support the release but was cancelled and the band quietly came to an end. If voted to win, ROG will reissue this classic industrial title that has been out of print on vinyl for 25 years and will be making its debut on wax in the USA!

Track Listing:
Side A
1 Gila Copter 5:58
2 Creep 8:50
Side B
1 Mr. Lucky 4:39
2 Crackin' Up 6:26
3 Sergio 6:32
Side C
1 Da Ya Think I'm Sexy? 5:34
2 The Rockabye 7:19
3 Butcher Flower's Woman 4:57
Side D
1 Dirt 5:07
2 Linger Ficken' Good