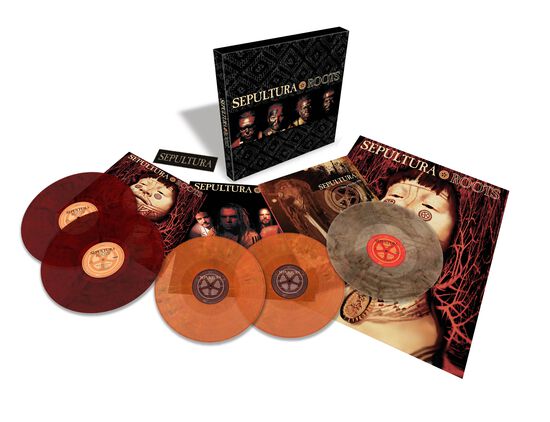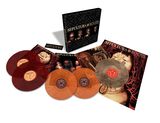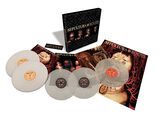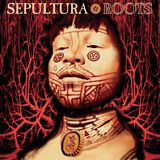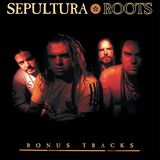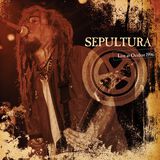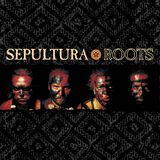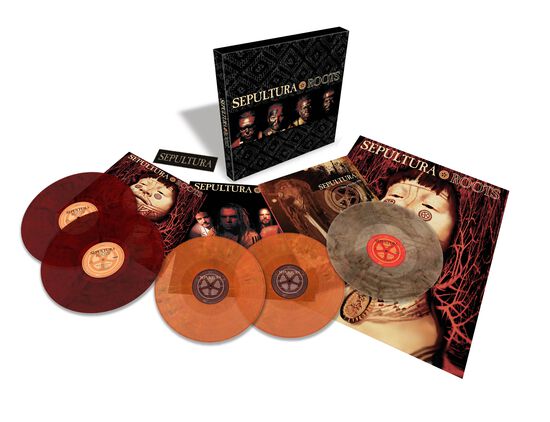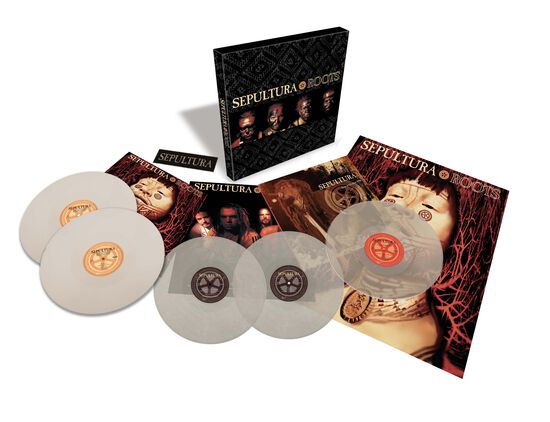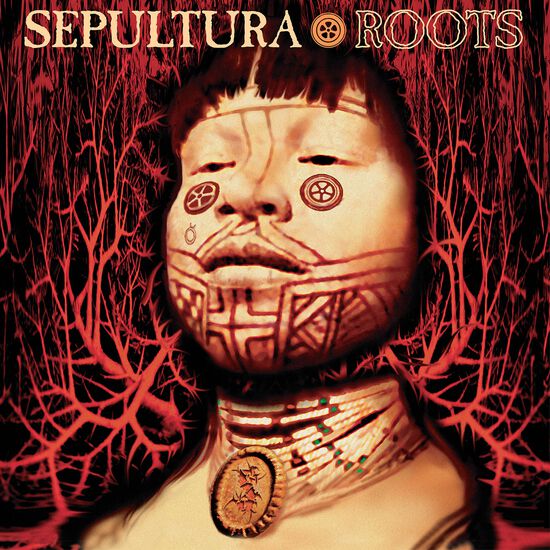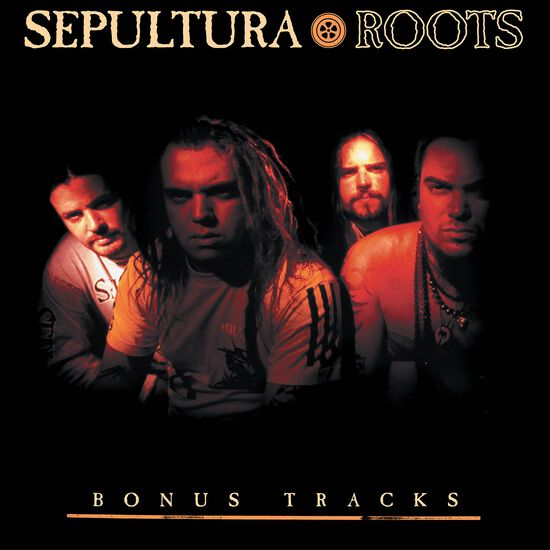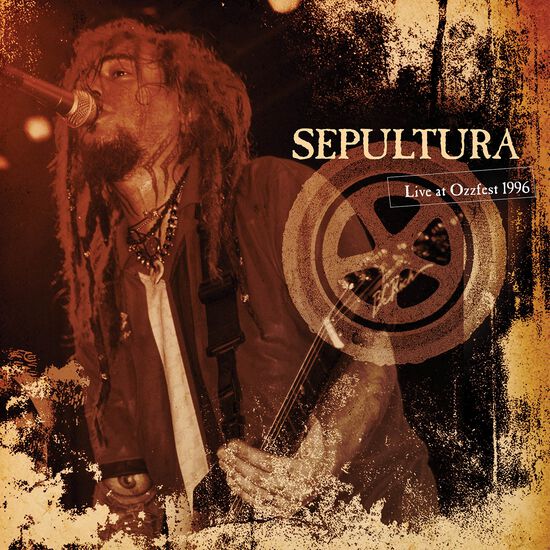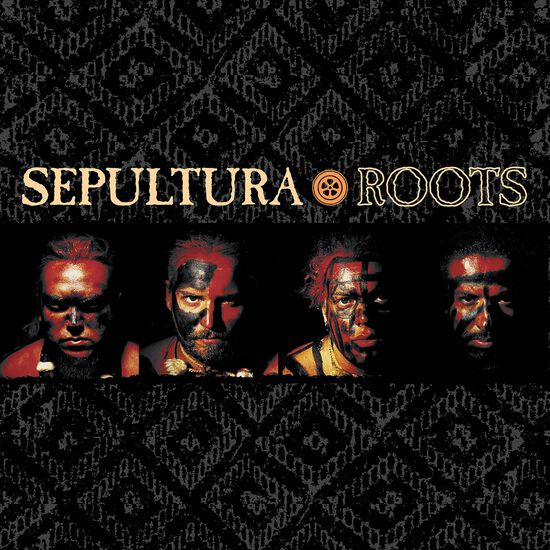 Sepultura
Roots 25th Anniversary 5LP Box (D2C color version)
Get em' before they're got!
EXPECTED RELEASE DATE IS TBD
Marketing Points:
25th Anniversary deluxe edition featuring bonus demos, alternates rough mixes and more!
Remastered for ultimate fidelity
Includes a previously unreleased live at Ozzfest (Phoenix AZ 1996) performance found in the Warner vaults and exclusive to this box
Features a custom spot-varnished hard box with 3 gatefold tip-on jackets and new custom artwork
Includes exclusive embroidered patch and fold out poster exclusive to this box
A limited amount of a color vinyl edition will be available exclusively @ runoutgroovevinyl.com while supplies last
200 copies with an alternate colorway and numbering will be available randomly to those that purchase the D2C version. They are randomly mixed in.
Limited one time pressing for all versions
Biography:
Sepultura, which means "grave" in Portuguese, is a Brazilian heavy metal rock band from Belo Horizonte. Founded in 1984 by brothers Max and Igor Cavalera, the band has been a major force in the groove metal, thrash metal and death metal genres during the late 1980s and early 1990s. Later in their career, their style drew on influences from alternative metal, world music, nu metal, hardcore punk and industrial metal. Sepultura is considered in the second wave of thrash metal acts from the late 80s to mid-1990s along with bands like Pantera, Testament, Sacred Reich, Dark Angel, Machine Head, Death Angel, and Forbidden. The band has released 15 studio albums, with the latest being "Quadra" in 2020. Their most successful records are Beneath The Remains (1989), Arise (1991), Chaos A.D.(1993) and Roots (1996). They have sold over three million records in the U.S. and 20 million worldwide, gaining multiple gold and platinum records around the globe, including in countries such as France, Australia, Indonesia and their native Brazil. Roots is the band's sixth studio album. It is the band's last studio album to feature founding member and vocalist/rhythm guitarist Max Cavalera. Following the shift to slower tempos and Latin-tinged rhythms on the album Chaos A.D., Roots delves even further into Brazilian musical textures. Both in sound and overall aesthetic, Roots is also a conscious nod to Brazil's marginalized indigenous population and cultures. The song "Itsári" features a Xavante chant that re-appears on the song "Born Stubborn" and serves as a loose thematic thread for the whole album, which on the whole showcases the band's increased affinity for experimentation and collaboration. "Lookaway" features guest appearances by Korn vocalist Jonathan Davis, then-Korn drummer David Silveria, House of Pain/Limp Bizkit turntablist DJ Lethal, and Faith No More/Mr. Bungle vocalist Mike Patton. Riff-wise, Roots also draws influence from the then-surging nu metal movement, specifically Korn (whose first two albums were also produced by Roots producer Ross Robinson) and Deftones. After leaving the band, Max Cavalera would continue to pursue the nu metal and "world" stylings of Roots with his solo project Soulfy. Since its release, Roots has sold over two million copies worldwide.
Track Listing
Side A
1 Roots Bloody Roots 3:32
2 Attitude 4:15
3 Cut-Throat 2:45
4 Ratamahatta 4:30
Side B
1 Breed Apart 4:30
2 Straighthate 5:22
3 Spit 2:46
4 Lookaway 5:26
Side C
1 Dusted 4:03
2 Born Stubborn 4:07
3 Jasco 1:58
4 Itsari 4:49
5 Ambush 4:40
Side D
1 Endangered Species 5:19
2 Dictatorshit 1:26
3 Canyon Jam (bonus track) 13:17
Side E
1 Ratamahatta (2 Meter Sessions) 5:26
2 Roots Bloody Roots (2 Meter Sessions) 3:37
3 Attitude (2 Meter Sessions) 5:59
4 Kaiowas (Take 1) 3:38
5 Procreation (Of The Wicked) 5:05
Side F
1 Roots Bloody Roots (Demo) 3:32
2 Attitude (Instrumental Rough Mix) 4:16
3 Cut-Throat (Instrumental Rough Mix) 2:46
4 Dictatorshit (instrumental Rough Mix) 1:28
5 Untitled (Demo) 4:14
6 Esquadrao Da Morte (Demo) **Retitled** 1:15
7 Dusted (Demo) 4:27
Side G
1 War 6:40
2 Mine 6:25
3 Lookaway (Master Vibe Mix) 5:36
Side H
1 Roots Bloody Roots (Megawatt Mix 1) 4:01
2 Roots Bloody Roots (Megawatt Mix 2) 4:08
3 Mine (Andy Wallace Mix) 7:58
4 Attitude (Live Ozzfest San Bernardino 10/26/96) 5:02
Side I
1 Intro-Roots Bloody Roots (Live Ozzfest Phoenix 10/25/96) 4:21
2 Spit (Live Ozzfest Phoenix 10/25/96) 2:36
3 Territory (Live Ozzfest Phoenix 10/25/96) 4:35
4 Breed Apart (Live Ozzfest Phoenix 10/25/96) 4:48
5 Attitude (Live Ozzfest Phoenix 10/25/96) 5:23
Side J
1 Straighthate (Live Ozzfest Phoenix 10/25/96) 5:14
2 Arise (Live Ozzfest Phoenix 10/25/96) 3:23
3 Reufse/Resist (Live Ozzfest Phoenix 10/25/96) 4:07
4 Douche Crew (Live Ozzfest Phoenix 10/25/96) 1:43
5 Ratahmahatta (Live Ozzfest Phoenix 10/25/96) 5:20
**Tracks 1-5 on Side I and tracks 1-5 on Side J are previously unreleased