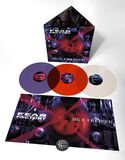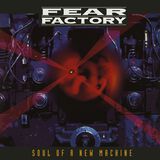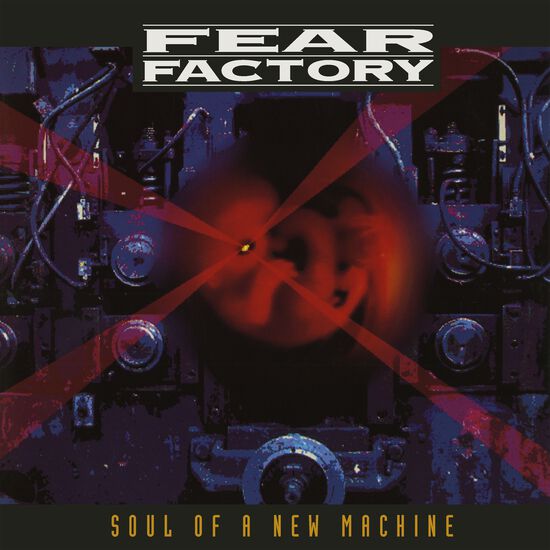 Fear Factory
Soul Of A New Machine 30th Anniversary Edition Color Vinyl
Get em' before they're got!
Expected release date: 7/22/22 (subject to change)
Released on vinyl for the first time in North America!

Out of print on vinyl for 30 years!

Deluxe 30th Anniversary edition is expanded to include the Fear Is The Mindkiller EP Remixed by Rhys Fulber and Bill Leeb from Frontline Assembly, as well as unreleased instrumental mixes debuting on vinyl

Newly remastered for kick ass sound!

Features ROG's typical deluxe packaging, a fold out poster and a patch

Offering a limited color vinyl version available exclusively @ runoutgroovevinyl.com while supplies last.

Individually foil-stamp numbered and limited to a one-time pressing
Biography
Fear Factory is an American Industrial Metal band formed in Los Angeles in 1990. Throughout their career they have released nine full-length albums with a tenth studio album coming in 2021. They have evolved through a succession of sounds, all in the main style of groove metal and industrial metal. The band has been enormously influential on the heavy metal and industrial scene mainly in the mid-to-late 1990s but still inspiring young musicians today. Soul Of A New Machine is the band's debut album for Roadrunner Records, released on August 25, 1992. Although this record was Fear Factory's first studio album to be released, it was actually their second album to be recorded, after Concrete, which was recorded in 1991 but not released until 11 years later. Guitarist Dino Cazares has stated that this album is a concept album, concerning man's creation of a machine that could be either technological or governmental. The sound of the record is different from the later albums, as it was influenced by many different extreme sub-genres of metal, such as death metal, thrash metal and grindcore, hence making the band an ""anomaly"" among others since it did not fit into any genre category at that time. The sound was also heavily influenced by Napalm Death and Godflesh. The album has been described as death metal with elements of grindcore by The Moshville Times. Author Colin Larkin of The Encyclopedia of Popular Music wrote ""Soul of a New Machine established Fear Factory as a genuine death metal force, with a good collection of songs delivered with originality and ferocity."" The record featured a different conceptual style from Fear Factory's later works. ""Martyr"" is about how Burton C. Bell was ""bored with his lifestyle""; ""Leechmaster"" and ""Manipulation"" are about relationship troubles; ""Scapegoat"" was based on how Cazares was once wrongfully accused by the law; ""Crisis"" is an anti-war song; ""Crash Test"" concerns animal testing and ""Suffer Age"" is based on serial killer John Wayne Gacy. The other songs contain different themes. Samples from the movies Full Metal Jacket, Blade Runner, and Apocalypse Now are heard sporadically throughout the album. The track, ""Big God/Raped Souls,"" was used in the movie, The Crow: City of Angels.
Track Listing
Side A
1 Martyr 4:05
2 Leechmaster 3:54
3 Scapegoat 4:32
Side B
1 Crisis 3:47
2 Crash Test 3:46
3 Flesh Hold 2:31
4 Life Blind 3:51
Side C
1 Scumgrief 4:07
2 Natividad 1:04
3 Big God/Raped Souls 2:38
4 Arise Above Oppression 1:51
5 Self Immolation 2:46
6 Suffer Age 3:40
Side D
1 W.O.E. 2:33
2. Desecrate 2:35
3 Escape Confusion 3:58
4 Manipulation 3:29
Side E
1 Martyr (Suffer Bastard Mix) 7:14
2 Self Immolation (Vein Tap Mix) 5:33
3 Scapegoat (Pigf*ck Mix) 4:36
Side F
1 Scumgrief (Deep Dub Trauma Mix) 6:20
2 Self Immolation (Liquid Sky Mix) 6:07
3 Scapegoat (Pigf*ck Mix) Instrumental Version 4:37 (previously unreleased)
4 Scumgrief (Deep Dub Trauma Mix) Instrumental Version 6:21 (previously unreleased)